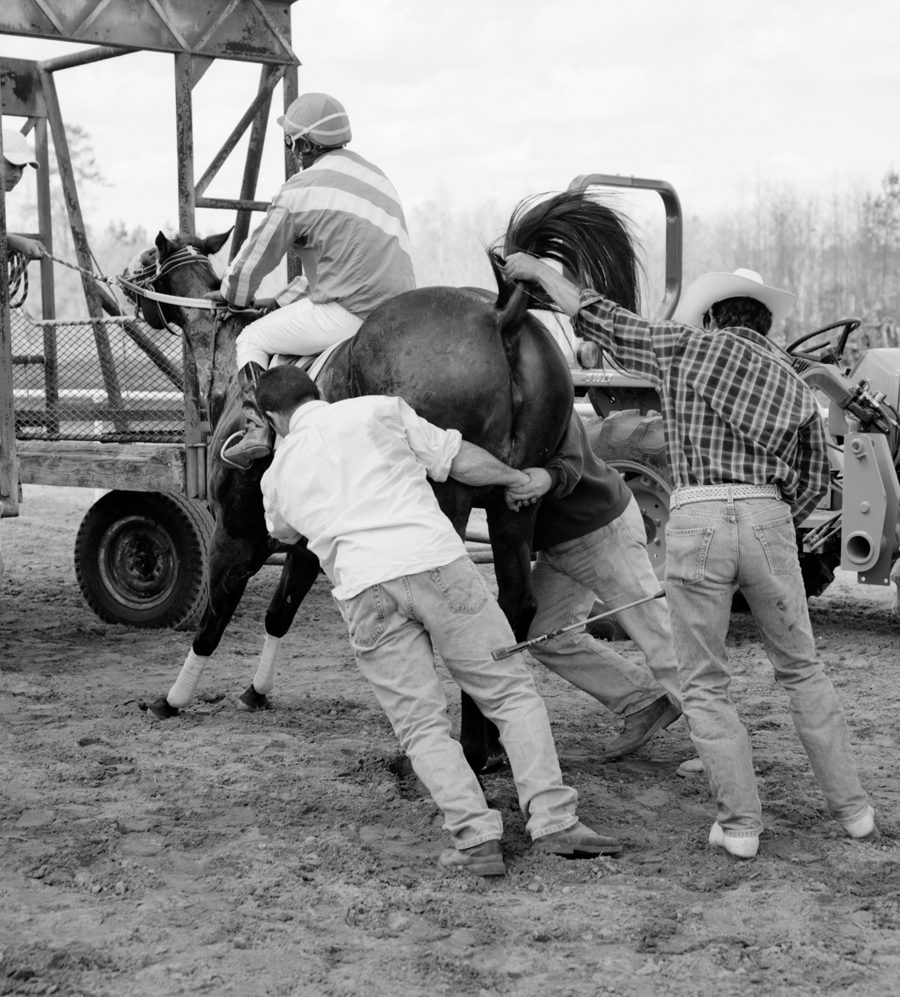 Project Description:
Bush track is a term used to describe unsanctioned, and often informal Quarter Horse racing in rural areas of the United States. Sometimes held on beautiful farms with formal training tracks, or on a plowed up dirt track constructed with rope fencing and other natural landmarks as the track interior, bush tracks can be as different as the people who frequent them.
Bush Track, an ongoing documentary project photographed in the southeastern region of the United States, documents the rich and changing culture of quarter horse racing in the South.
Personal Statement:
The best part of my childhood was spent on bush tracks. My mother, a racehorse trainer, managed a barn at a sanctioned track, but bush tracks were where she, as a young woman in the mid 1960's, dared to get her start.
My mother's life at Pompano Park racetrack was something of a mystery to us, her work days ran long and women were discouraged from having children under foot. But the bush track was different, it was like home to us, and one of the few places where we could share in her passion.
About once a month, at the break of dawn, we would load the horse trailer, pile into the back of the pickup truck and settle in for a long ride out to some bumpy, endless country road. Arriving at an empty field that would, in a matter of hours, be filled with hundreds of horses, hopeful up-and-coming jockeys, farmers, friends, and trainers scouting for riders and horses.
My mother died young, just weeks after my 16th birthday, sending me and my three siblings to live with my estranged father and separating us forever from what we knew of our mothers life. Many years later, I sought out the bush track community that she loved so much.
Upon return, I found that the culture had changed. What had once been a very segregated sport of white horse owners and underpaid jockeys and grooms, was now a diverse community of owners, riders, and laborers. And while there were still echoes of a segregated south, the influence that Hispanic and Black culture brought to this rural sport, offered both a richness and equity to the sport.
What I did notice though, was the absence of women, which only deepened my respect for the courage of my mother for daring to hold her own in what still appears to be a male dominated sport.
I offer these photographs in memory of Patricia Attwood Gilmour.